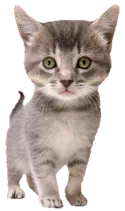 We are a companion animal veterinary practice with a mission to provide the highest quality and compassionate care to your pet and great service to you, our client. Our goal has been to create an animal care center that meets your highest expectations. Newport News Animal Hospital offers state-of-the-art veterinary health care and instructions in basic pet training, bringing you the highest value service possible. This is our commitment to you and your pets.
We maintain a high level of quality by adhering to the standards set forth by the American Veterinary Medical Association.

The services we provide include:

• Health examinations
• Laboratory testing (blood, urine and stool testing)
• Diagnostic imaging (X-ray and ultrasound)
• Vaccination
• Heartworm testing and prevention
• Flea, tick and heart worm treatment (including treatment of Lyme Disease)
• Medical treatment
• Cardiac care (heart echo and ECG exam available)
• In-house pharmacy
• Surgery (routine spaying, neutering and declawing as well as elective surgery)
• Wound care
• Reproductive services
• Vaccination
• Allergy testing and treatment
• Dental Care
• Dietary planning
• Geriatric care
• Exotics care
• New puppy and kitten education

Payment Options:

We accept Visa, Master Card, American Express and Care Credit. We also accept pet insurance.